Week 1: Strategy and Brainstorming
By Ben on January 10, 2020
---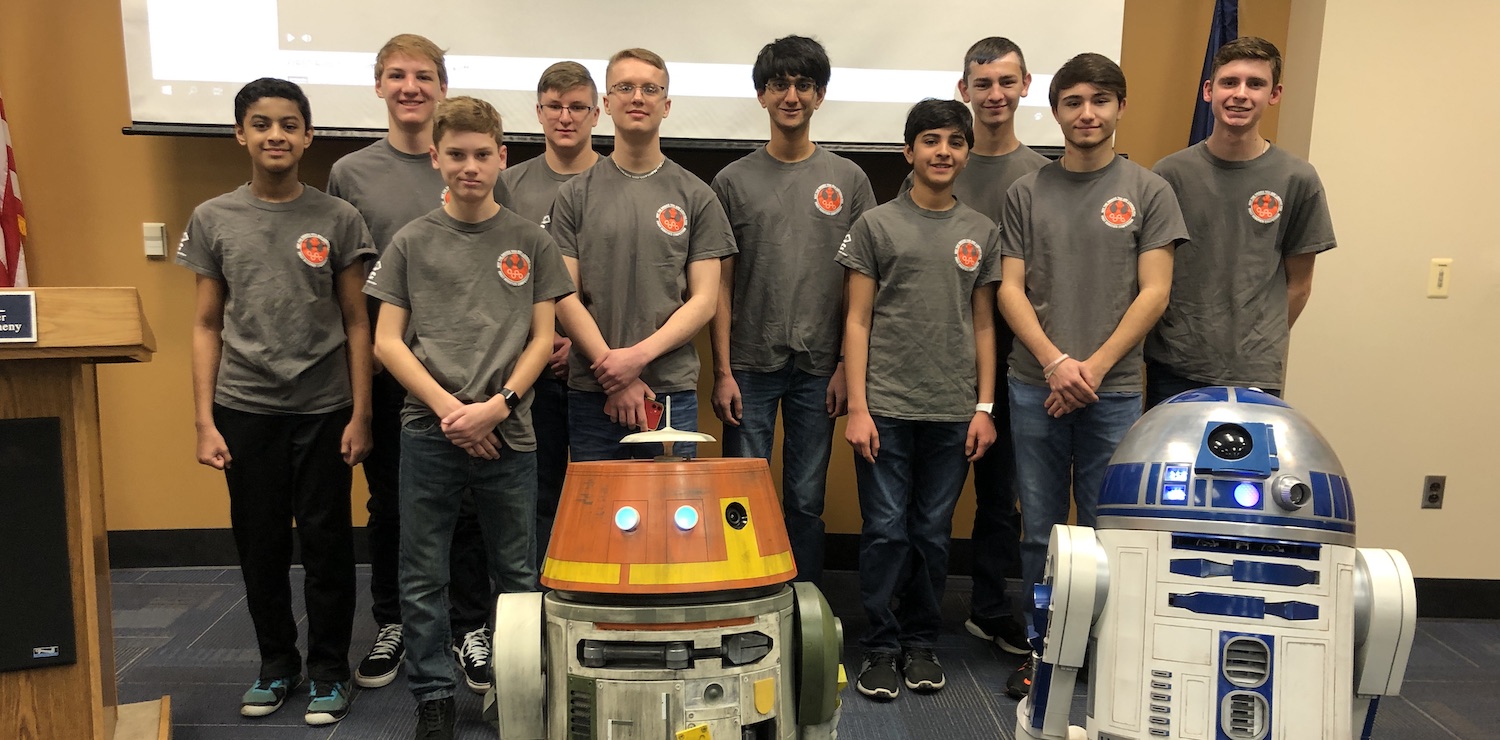 Season Kickoff was all about using what we already know to brainstorm something that has potential to be great. To begin, we attended the season kickoff event at Penn State Greater Allegheny. Here we learned about the challenge for the 2020 season Infinite Recharge. We had a BLAST at the season kickoff event, there was even real life Star Wars characters.
During the season kickoff event several team members took notes. We used these notes during our 4 hour brainstorming session in Pittsburgh. During our brainstorming session we discussed things such as a new design that is suitable for the new challenge. Also we discussed what we wanted our strategy to be as based on ranking points and scores.
Furthermore, we broke up into small groups to brainstorm an assigned mission that was given to them. Each small group either make a diagram of their solution or they created a CAD model in SolidWorks. Each small group was given 1 hour to complete their assigned mission. Once that hour was up we all presented our ideas and took feedback from each member to improve their existing solution.
The team worked on developing some basic CAD designs as prototypes to share with the rest of the team. After the feedback was acquired, the same small groups we given the week to redesign their solution as shown above. Once everyone has completed their assignment, we are going to put each CAD assembly together in SolidWorks. From here, we will know what part we will need to make this idea of our robot become a reality. We went through many different ideas such as the Power Cell shooter. Originally the shooter was positioned very high, but through much discussion we decided it would be most efficient to shoot from the bottom. This is just one example of how we used the engineering design process. This brainstorm session was so valuable because we can only meet 2 times per week based on access to our meeting space at Penn State Shenango. Next work session we plan to start building our robot with the parts that we have ordered earlier in the week.
During the week, our team parents helped us to build parts of the playing field elements so the team could use them to practice. Our lead designer put together all the different CAD designs so that we could start working the following week. Two of our team members also launched our newest FIRST LEGO League support site, primelessons.org.